Cayuga, IN is home to one of the most haunted places in the state, Willows Weep House. Come Explore its mystery with Haunted Journeys.
THE HISTORY
Constructed in the 1800s this phantom-rich house was built in the shape of a cross that faces east. That in itself is strange, but there is nothing else that is common to this house declared to be one of the "notoriously haunted properties in America." The house sits on a crossroads and has a list of ghastly deaths that have occurred within its walls.
The land itself is documented to have a strong Native American connection. There was a major battle very near where the house sits today. To add to its mystery, there are ancient burial sites around the area and two rivers converge in the tiny town of Cayuga, Indiana. Could all these factors contribute to the intensity of haunting in this property? Many believe it does!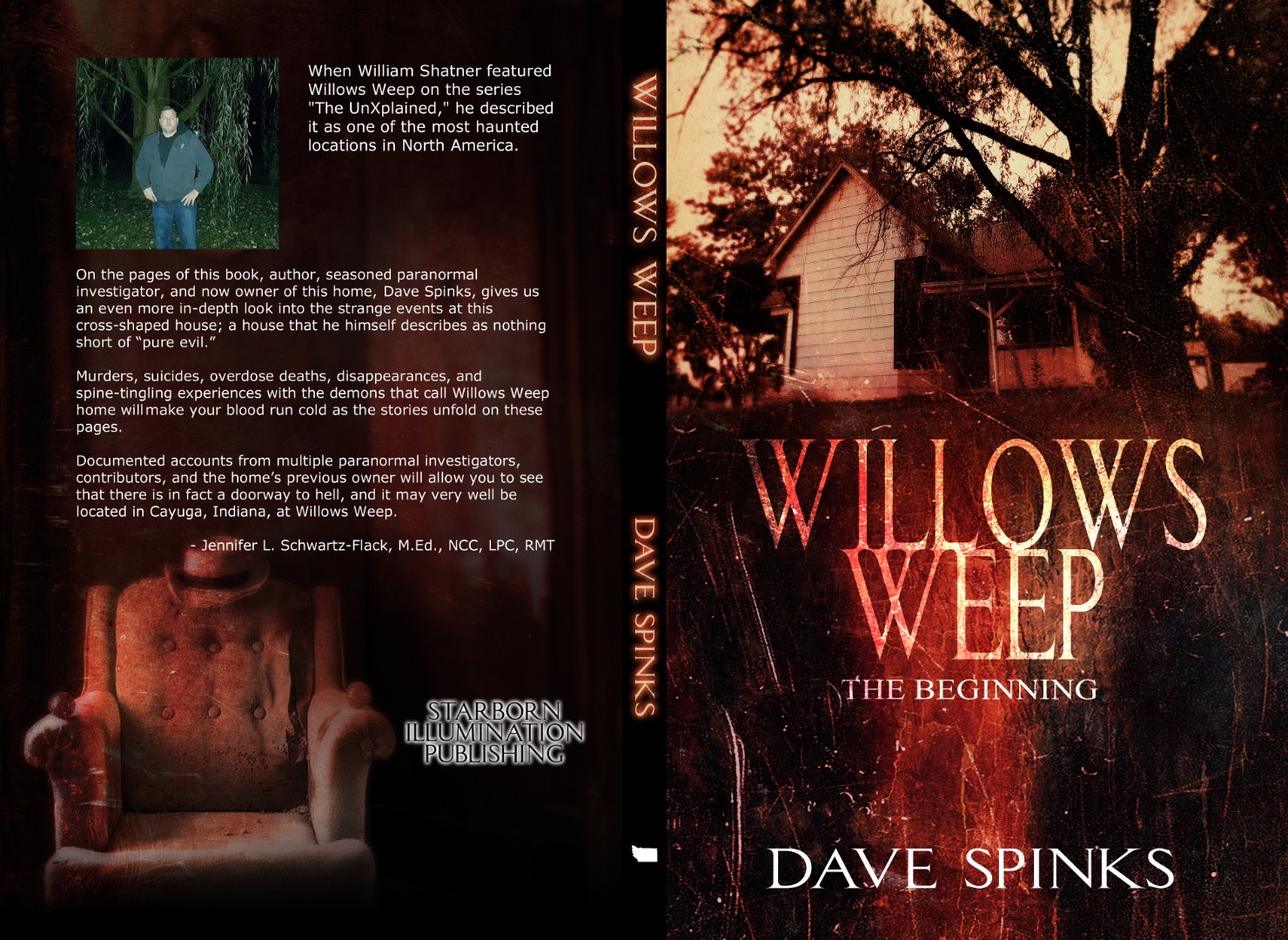 Purchase this amazing documentary book,
that pushes truth to those that dare to read!
Willows Weep (The Beginning) by Dave Spinks


THE HAUNTED
A strange book was found buried beneath the old floor that deals in Necromancy and other occult practices. The former owner declared that the house is very dangerous and feels that it tried to kill her and her husband on numerous occasions and many Paranormal Investigators have been attacked in the house and have recorded many EVP's.
Fearing for there lives they sold the house and moved far away. The new owner is, paranormal investigator, Dave Spinks, has been conducting a year-long investigation and research with hand-picked investigators. His goal is to find out what entities (good or bad) are lurking in the house that makes it Willows Weep.
Would you dare to visit, as many have labeled it ... "The Most Haunted House In America"?



Unbelievable Deal!   (Normally $59/device)
K2 Meter to detect EMF Spirit Presence... Only $18/first time buyers!
MORE INFO

PLEASE CONSIDER
It is the hope of many who are hoping to keep the research going at Willows Weep (including Dave Spinks) to produce an indi-film through Crowd Funding.  The team on this campaign include Billy Lewis and Dave Spinks. Lewis is a Filmmaker out of Wilmington, NC and Spinks is a paranormal investigator and owner of the Willows Weep house.
"We are looking to raise $25,000 to lay the groundwork to produce this haunting movie based on real events. The house has been profiled on the History Channel's show The UnXplained and has been called the evilest house in America. This story needs to be told."  Contributors to this campaign will be a part of American Cinema history because this movie will go down as one of the greatest horror films ever made.
To join this effort, please CLICK HERE. 


More Haunted Places ... Near by!
Read about the most haunted theatre in Indiana, The Fowler Theatre!  This is the upcoming most visited site in the mid-west. If you wish to experience the haunted, this will not disappoint. 


Visiting Willow's Weep?  
Here's a place we recommend to stay! The Red Roof Inn has great rates and ratings!  CLICK HERE to check it out!
Understand This:
This property, as part of our network, has been added for they may have history, validation or folk tales of having spirited activities. Please take caution in approaching and visiting these locations, since courtesy, respect, and caution should be a top priority in every Haunted Investigator's style. Also do realize, some of these places may have permanently closed, changed ownership and/or names, or just are not available for your visits. Please respect this.
We are not responsible for the accuracy of the information provided on this listing, but offer it as a first step in finding your next haunted travel destination. Please do confirm with the property before making any plans to visit. If you visit, tour or investigate this property (or any of our properties), we are not responsible or held liable for any outcomes, lack of evidence or injuries associated with your travels. This is only for entertainment purposes, and information provided is only as found in public domains (or as offered by the associated contributor (as a claimed property).
For more information, please read our TERMS OF SERVICE (linked below).
Please select the tags below to see more listings like this!