Port Talbot is home to one of the most haunted places in Wales, Margam Castle.  Come Explore its mystery with Haunted Journeys.
The History
Originally an abbey during the 11th century, the Gothic-styled castle we see today was built as a Gothic Revival country house was constructed over a period of ten years, from 1830 to 1840.
In 1977, a fire caused substantial damage, and it was only after this that a restoration project began in earnest. After a few exchanges of ownerships, today Margam Castle is a Grade I listed building and is in the care of Neath Port Talbot County Borough Council.
The Hauntings
Over the years this towering Gothic mansion has had many reports and evidence that strongly surpass the typical found in a grand historic property. Most are highly bizarre occurrences, often pointing toward ghostly poltergeist activity that can only be described as violent and terrifying.
At nightfall, the castle's security guards have cited hearing disembodied footsteps and voices chattering when no one else is in the building. But these are minor incidents, compared to the volume of actual apparitions that are seen in this majestic property. Many of these have actually been caught on digital photographs and can be seen in the second gallery below.
The malevolent phantom of Robert Scott is said to be the most active specter in the property. He was a gamekeeper at the house for numerous years. Legends tell us he was murdered by a poacher and his spirit remains in the property he loved and took care of. He frequently has been seen lurking up the main staircase.
His angry spirit is quite interactive with guests, for he is thought to be responsible for the more sinister activity here which includes Poltergeist activity such as throwing stones towards guests. Sometimes they will be so overtaken with fear, they may leave the property afraid to return. You may hear him heavily slamming doors. He is also known for his heavy disembodied footsteps on the flagstone floors and inciting extreme temperature changes. Folks have even reported being grabbed forcibly during Vigils.
Maybe he is protecting himself, an expected reaction for one that has been unjustly murdered. His spirit does come forward regularly with psychic investigators, all of whom have validated that his spirit is consumed with rage over his unjust killing.
In a lighter mode, you may hear the chatter and giggle of Victorian children, playing in the corridors of the castle. Their young phantoms have also been witnessed to be seen darting in and out of rooms and mischievously moving objects around the castle.
To add to the entities of this active property is a large figure that is said to be a blacksmith. His apparition is commonly seen by the castle's gamekeepers and gardening staff.
This castle was featured on Para TV's Most Haunted UK in 2006. It was followed by Ghost Hunters International in 2010 and in 2018 Paranormal Lockdown UK filmed an investigation here. .In 2020, a British horror feature film, The Haunting of Margham Castle, was shot there. The Margam Ghost Walk includes this majestic property in its tours.

Go with us on a supernatural tour of haunted countries.
Realize your fantasy 8-Nights spectral vacation. 
Mysterious Adventures Tours LLC, our sister company, offers spectacular trips to the most mysterious and supernatural places in the world. One of their signature tours explores Ireland, England, Scotland, and Wales. Take a look at some of the spectacular offerings, some led by celebrity ambassadors! 
By the way, here is our Welsh Tour with Brian J. Cano scheduled for July 2022.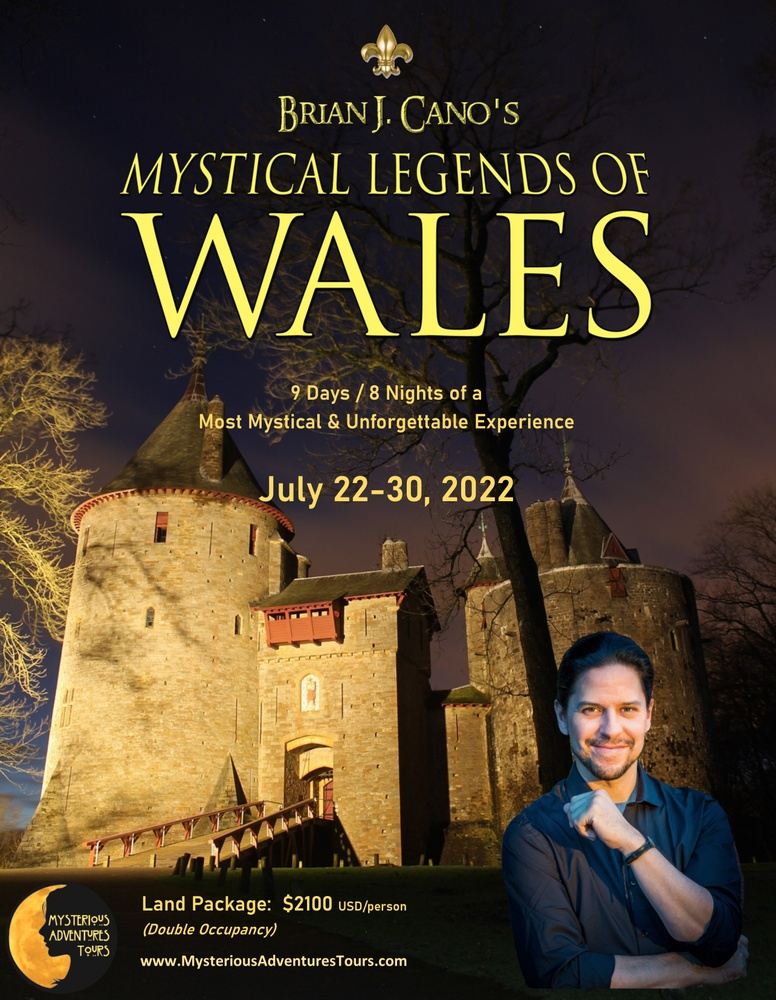 Hand-picked reads about haunted Wales...


Understand This:
This property, as part of our network, has been added for they may have history, validation, or folk tales of having spirited activities. Please take caution in approaching and visiting these locations, since courtesy, respect, and caution should be a top priority in every Haunted Investigator's style. Also do realize, some of these places may have permanently closed, changed ownership and/or names, or just are not available for your visits. Please respect this.
We are not responsible for the accuracy of the information provided on this listing, but offer it as a first step in finding your next haunted travel destination. Please do confirm with the property before making any plans to visit.
If you visit, tour, or investigate this property (or any of our properties), we are not responsible or held liable for any outcomes, lack of evidence, or injuries associated with your travels. This is only for entertainment purposes, and information provided is only as found in public domains (or as offered by the associated contributor (as a claimed property).
For more information, please read our TERMS OF SERVICE (linked below).
Please select from the tags below to see more listings like this one!